Introduction
Launched by the Hon'ble PM in January 2018, the Aspirational Districts Programme (ADP) aims to quickly and effectively transform 112 most under-developed districts across the country. The broad contours of the programme are Convergence (of Central & State Schemes), Collaboration (of Central, State level Nodal Officers & District Collectors), and Competition among districts through monthly delta ranking; all driven by a mass movement.
With States as the main drivers, this program focuses on the strength of each district, identifying low-hanging fruits for immediate improvement and measuring progress by ranking districts on a monthly basis. The ranking is based on the incremental progress made across 49 Key Performance Indicators (KPIs) under 5 broad socio-economic themes – Health & Nutrition, Education, Agriculture & Water Resources, Financial Inclusion & Skill Development and Infrastructure. The delta-ranking of Aspirational Districts and the performance of all districts is available on the Champions of Change Dashboard.
The Government is committed to raising the living standards of its citizens and ensuring inclusive growth for all – "Sabka Saath Sabka Vikas aur Sabka Vishwas". To enable utilisation of their potential, this program closely focuses on improving people's ability to participate fully in the burgeoning economy. Districts are prodded and encouraged to first catch up with the best district within their state, and subsequently aspire to become one of the best in the country, by competing with, and learning from others in the spirit of competitive & cooperative federalism.
NITI Aayog works closely with the respective line Ministries and various development partners to fast-track progress at the district level. The districts are also encouraged to develop and replicate best practices that drive improvement across the socio-economic themes. The Aspirational Districts Programme essentially is aimed at localising Sustainable Development Goals, leading to the progress of the nation.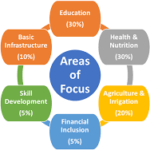 Areas of Focus
This programme is for overall transformation of the district using mass movement approach. Different districts have different strength and weakness and detail of district level plans would vary.
At the same time, to keep the approach focussed, the programme seeks to focus in following sectors as these are important for all districts:
a) Health and Nutrition (30%)
b) Education (30%)
c) Agriculture and Water Resources (20%)
D) Financial inclusion and skill development (10%)
E) Basic Infrastructure including access to road, potable water, rural electrification and individual household toilets. (10%)
 Institutional arrangement for the programme
The Aspirational Districts Programme shall is a product of collective effort in which States are the main drivers. At Government of India level, programme is anchored in NITI Aayog. In addition, individual Ministries have been given responsibility to drive progress of districts. For each district, a central Prabhari officer of the rank of Additional Secretary/Joint Secretary has been nominated. An Empowered Committee under the convener-ship of CEO, NITI Aayog has been notified to ensure convergence in schemes and address specific issues brought out by Prabhari officers. States have been requested to form a committee under Chief Secretary to implement the programme. States have also nominated nodal officers and also State level Prabhari officer.
Core Strategy
The core strategy in the program may be summarised as:
– States as main drivers
– Work on the strength of each district.
– Make development as a mass movement in these districts.
– Identify low hanging fruits by identifying the strength of the districts so that this can work as a catalyst for development.
– Measure progress and rank districts to spur a sense of competition.
– Districts to aspire: from becoming States' best to Nation's best.
Real Time Monitoring and ranking of districts
49 Key performance indicators (81 data points) have been identified, in consultation with Ministries across sectors of focus. The dashboard is designed, developed, and maintained by the Planning Department, Government of Andhra Pradesh. The ranking of districts is dynamic and would reflect the incremental (delta) improvement made month on month. Some of the important data points are being validated by third-party agencies. NITI Aayog is partnering with two survey agencies, Tata Trusts and IDInsight in 76 and 25 districts respectively.
Formulation of district Plan
NITI Aayog has developed a broad template for formulation of district plans. Since different districts have different opportunity and challenges, Districts have been advised to customise the template. They have been particularly advised to identify low hanging fruits/opportunities and make strategy for realising them. In addition, a Primer comprising of steps to be taken to improve each of the indicators, compiled from the inputs received from respective Ministries, has also been provided to District Administration.
– Courtesy NITI Aayog and External references for Data.